Since my friend Cam and I had to fore go (is that supposed to be one word? is it a word at all?) our "Fun Friday" last week, we opted for a "Marvelous Monday" instead.
It did not start as marvelous as I would have liked. I woke up, went to the bathroom, and before I could even sit down... I noticed it. The windows in my bathroom have a sort of frost to them so you can't see in or out, but still... I noticed it. There was a kind of whiteness to the windows. Sure enough....
It's not much, but it's all we've got. I also discovered that apparently the county road crews weren't prepared for any amount of snowfall. Now I know I do live in the boonies and the majority of the time our roads don't get salted as soon as the main roads do. I think what made it so dangerous was that there were some patches that were clear and some that were not. I made my way, slowly, almost all the way to the Queen Bee's house before any kind of catastrophe presented itself. Luckily, I kept my cool, which is not like me whatsoever, and I kept my car out of a ditch, but I did a little pirouette with my car. I can't say she was my favorite partner.
The day did get better with a little help from the barista at Starbucks and the donut I had for breakfast.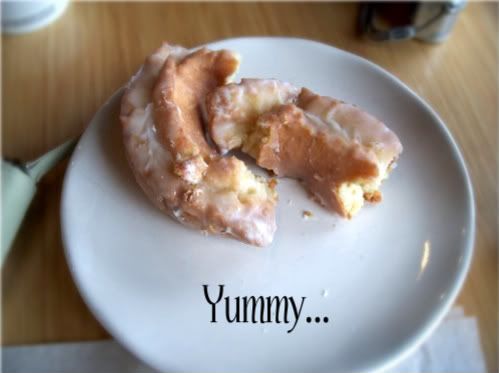 Cam had the same thing she always gets... chai tea. Trying for a stealth photo...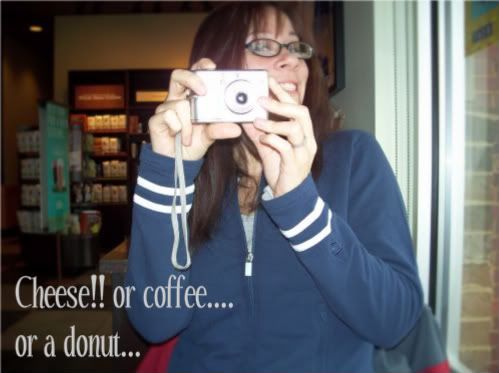 After venturing to a second hand store, we decided to head to the mall to just wander here and there. Just for the fun of it we decided to ride the escalators...
Not the most flattering picture of either of us, but who cares! We were goofing off!
OK, so the second photo is better... wait a minute... is that a dis-torsoed mannequin in panties behind my head?!?!?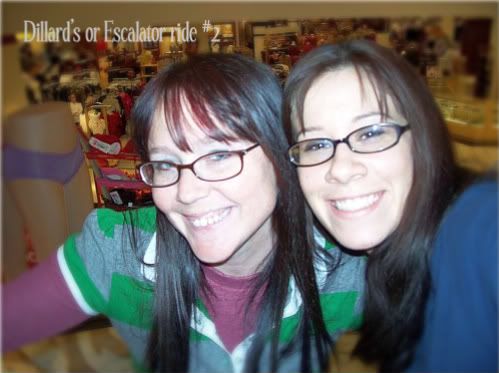 We both wanted to go eat lunch somewhere that we hadn't eaten before, but we couldn't agree on a place so we opted for an
Auntie Anne's
pretzels. Cam decided that this was an appropriate photo to take. We don't like to share.
A brief stop at the candy kiosk yielded gum and "pocket candy".
But wait there was one last thing to do before vacating the mall...
I didn't like the single light fixtures that I found at
Lowes
so a trip to the
Home Depot
was in order. What's this?? Fresh fruit for sale at the Home Depot?? Who knew??

Of these three fixtures, ironically, I like the $15 one best.
Your mission, should you choose to accept, is to tell me which one you prefer.
And that faithful readers was my Monday, during the day at least... Monday evening was full of numbers, calculators, and Girl Scout cookies.