My mind is exploding with new ideas for what to do with the new (
not so new
) house. Today is going to be kitchen idea day.
The house is basically just all white walls, it was when we lived there 2 years ago anyway... so I want color. I've never been brave enough for real color on the walls so I'm going for it this time around.
I want this color...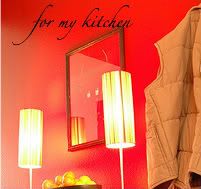 ... and maybe the dining room too. Is that going to far? That color in both rooms?
I found this great photo depicting the
that I want to paint. Of course, the cabinets aren't that awesome, but new cabinets aren't on the list this year. Neither is a new counter top, but that one is super nice as well.
Friday, Cam was nice enough to go with me to get a few paint samples. I had no idea there were so many different shades of red. It was bordering on insane. I picked out a few...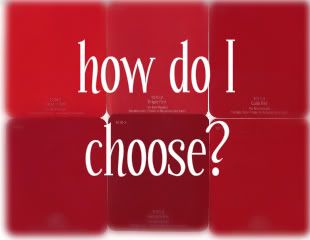 Of course this isn't really a good representation of what the colors actually look like because I scanned them. The light the scanner uses tends to be a bit harsh. But you get my dilemma. I don't want it to be too dark, but I don't want it to be too, what's the word... red. Ha ha ha... I don't know what I'm trying to say here, but I hope you understand.

I found these nice cabinet handles. They weren't my first choice, but my first choice was $5.97 a piece. There are 22 cabinets and/or drawers. So that was a no. These are only $1.97 a piece.
I would love to have this backsplash.
Originally, I just wanted to use these for behind the stove/oven. They are easy to wipe off. But after using Cam ...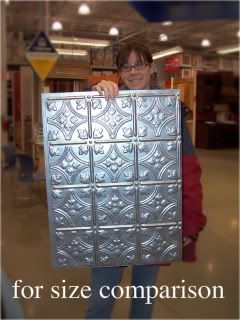 I think I may try to use it around the counter as well.