I didn't find as many pics as I would have liked to, but I did find several random pictures worthy of a look-see. And when I say random... I mean really random.




It is obvious which of these is me by the clothing worn in the photo, but I still shake my head when I compare photos of myself with my daughter.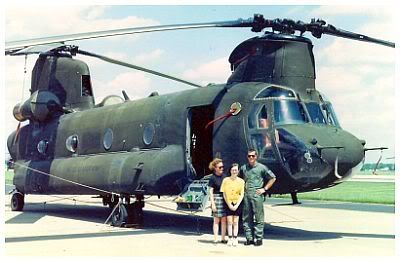 When I was in middle school, Operation Desert Storm was well underway. We live not far from a large military base on the KY/TN border, Fort Campbell, home to the 101st Airborne Division (Air Assault!!) Our English teacher requested that we all write letters to the troops in Iraq and Saudi Arabia. I picked the guy in the picture. He and his wife surprised me at a band concert after we got done playing "Wind Beneath My Wings" by Bette Midler. We continued to write for quite some time after that and the following summer he invited me to come to the base and check out what he did. He was a Capt. at the time (now a Major) and was a Chinook pilot. I know you love those spandex shorts I'm rocking right? And the vest? Betcha didn't notice that those shorts had a lace trim around the bottom did you???




Although she tried blackmailing me with a photo of me picking my ass (after sliding down a slide at the park), I'm not going to be swayed in my decision to post the poofy pic. *I love you Cam!!* I think that my plaid pants (shorts?) and the non-chalant peace sign trump her unusually big hair. Not to mention the glasses that cover half of my face. We were only like 12 & 13 in the picture so you can't hold it against us.




Ah, yes... the 8th grade graduation picture. This was such an exciting time...then I went to high school... ugh...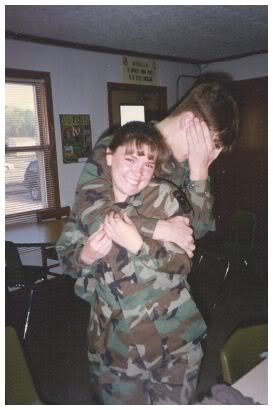 But it wasn't all bad in high school. ROTC rocked and I had friends like Jeep Chick.




Yes, it's a bad picture, but it's old... My boyfriend dumped me so Jeep Chick (& the parents) took me to Opryland, which doesn't exist anymore, to get over it. That place was awesome. They tore it down to make room for Opry Mills. This photo is just for her.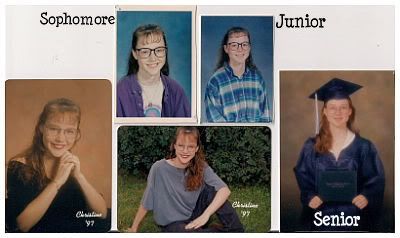 My high school pictures minus freshman year...because I couldn't find a copy of it.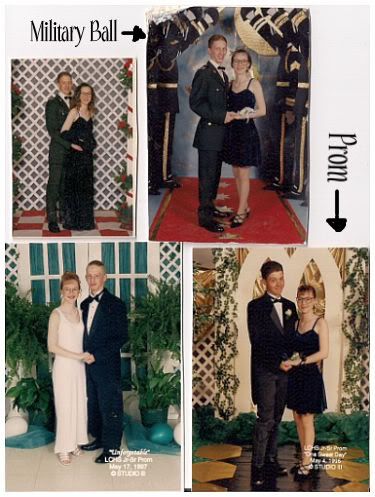 I would be remiss to not post some high school dances. Ahh.... the good ol' days.

And last, but not least... in a vain attempt to apologize to Cam for posting the poofy picture...





...before husbands, before kids....
We were just peas & carrots...